To begin with, Under Armour is not 100% Cruelty-Free.
If you are a sports enthusiast, you would know how famous Under Armour is. Since being founded in 1996, the brand has only seen a rise in popularity.
However, people today do not see a brand, especially of such high demand, in a traditional sense. They want it to tick all the boxes related to ethics and environmental friendliness in addition to quality.
Are you an avid Under Armour user that wants to know whether the brand is cruelty-free and ethical?
Under Armour is not 100% animal-friendly, i.e., cruelty-free.
Read till the end to learn more about the brand and to what extent exactly it is cruelty-free and ethical.
Is It Cruelty-Free?
Despite the claims of being cruelty-free, Under Armour, according to third-party sources, is not devoid of animal cruelty.
By and large, they do not conduct product testing on animals. However, this factor is not alone enough to declare any company animal-friendly.
The brand sources its raw material from animals, including fur, leather, etc. In addition, you can also see Under Armour on the list of "cruelty-free investing animals" for selling apparel and products manufactured using leather, wool, and hide.
Moreover, the company sells in mainland China too. This further strengthens the case against it being cruel to animals.
Therefore, we can safely say that Under Armour, as a brand, is not committed to minimizing the suffering of animals and, consequently, animal safety.
Is Under Armour Vegan?
A simple answer; no, the brand is not 100% vegan.
The brand does not use exotic animal-derived materials or fur in its products. However, it does use leather, wool, and down.
Despite the brand not being entirely vegan, you will find some products, such as shoes, that are totally vegan. They don't contain any animal-sourced raw materials, even in trace amounts.
But how do identify vegan sportswear?
Compared to our daily fashion accessories, vegan sportswear is a bit hard to find.
The majority of the gym or sports clothing accessories are not made of wool or fur. So, there's a big chance that you might get fooled into buying non-vegan sportswear.
Generally, genuine vegan sportswear is sourced from sustainable, eco-friendly, organic vegetable fibers such as cotton or linen. These items are even better at absorbing heat and moisture and show long durability than synthetic fibers.
You can check the brand's website for assurance about their product's sources, for starters. If it is really vegan, it will mention everything from raw materials to product manufacturing and will have nothing to hide.
How Ethical is Under Armour?
Overall, the brand is rated "Not Good Enough" for ethical parameters by the "goodonyou.eco"
We cannot say that Under Armour is 100% ethical. Although the brand claims to be ethical with its sustainable manufacturing procedure and eco-friendliness, some of its practices tell you otherwise.
For instance, Under Armour still sources raw materials from animals, including wool, leather, etc. Moreover, selling in mainland China further weakens its claims of being genuinely ethical.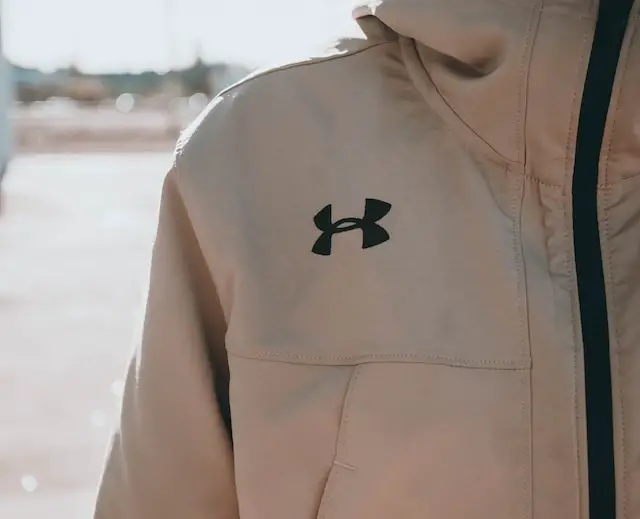 Furthermore, the negative impact of its manufacturing process on the environment is also quite noticeable.
Primarily, the brand does not entirely use eco-friendly resources. The majority of the brand's activewear contains polyester, which is a petroleum-derived material that does not decay for centuries.
Another reason for the company's bad ethical ratings is that it shows no evidence of efforts to reduce textile waste or implement water reduction initiatives.
How Well are Labor Conditions In the Company?
How a company treats its workforce denotes a lot about its ethical principles. Under Armour comes under significant fire in this regard too.
Overall, the brand scores 21-30% on the Fashion Transparency Index 2021. This shows that the brand is not too vocal or explanatory of its practices, manufacturing process, gender equality, forced labor, and freedom of association.
Moreover, there's no evidence of whether the company pays its labor a living wage or protects its labor and suppliers from the financial havoc created by the Covid pandemic.
Does Under Armour Support Hunting?
Apart from using animal-derived resources, Under Armour supports trophy hunting too. Furthermore, it produces hunting gear and also sponsors some professional trophy hunters, including Kendall Jones and Cameron Hanes.
Trophy hunting isn't a sport but a green light to animal cruelty and sociopathy. So, if you are a vegan sports enthusiast, you should be careful next time shopping the brand.
Bonus: Vegan and Cruelty-Free Alternatives to Under Armour
It is now established that Under Armour is not a brand for animal-loving and vegan sports buffs.
However, there are some top-notch sports brands that offer truly vegan activewear and accessories.
Here are three authentic brands that deliver eco-friendly, vegan, and cruelty-free sports activewear:
1. Plant Athletic
If you are dedicated to saving the earth, this brand is made just for you. Plant Athletic majorly uses recycled materials to manufacture its products to commit to its aim of achieving 100% zero waste.
The brand's first priority is mother Earth, not sales. That's why each product is made in a safe and fair working environment using recycled and sustainable materials.
3. Elle Evans
Elle Evans is a swimwear brand that manufacturers beautiful and trendy vegan swimwear and activewear. All the products are sourced from sustainable materials, including recycled marine plastic, which also gets marine life out of the dangers of getting hurt by the harmful plastic.
So, if you are a fashion enthusiast who advocates for environmental protection, Elle Evans is where you should look.