The price of T-shirts may be low, but their environmental impact can be substantial.
Your t-shirt has an effect on the environment from the time the cotton is grown and harvested to the time it is woven, made, dyed with dangerous chemicals, and shipped over long distances.
An astonishing 2700 liters of water are required to produce the cotton for a single T-shirt. This is very important because only 1% of the world's water supplies are clean and easy to get to.
In addition to taking up farmland that could be used to grow food for local communities, cotton farming uses a huge amount of chemicals.
Man-made fibers, such as polyester and nylon, are expensive because they are produced with petrochemicals, pollute wastewater, and are not biodegradable.
"Clothing must be sorted into groups with similar material content in order to be recycled," says Tiffany Threadgould, head of design at Terracycle. She adds that it can be hard to figure out how to sort your textiles so that they end up in the right place.
"While many T-shirts are 100 percent cotton, there are cotton-poly and 100 percent poly blends that would clog a recycling system."
Therefore, even if your T-shirts make it into the recycling bin instead of the trash, there's no guarantee that they'll be recycled, so it's more sustainable to give them a new life.
"Recycling is important, but it ranks third on the 'reduce, reuse, recycle' list because it requires more labor," says Threadgould.
"The greatest impact can be made by concentrating first on reduce and reuse. And discarding items should always be a last resort, as doing so depletes valuable resources. "
Sure, you can turn your old T-shirts into dishrags, but wouldn't it be much more entertaining to put on your creative hat and create something Pinterest-worthy that you can keep forever?
"In general, apparel has sentimental significance that might factor into the reuse value of the garment," explains Threadgould. "Perhaps you have outgrown them, or they have been damaged or faded." This shirt can be repurposed with a few clever cuts and alterations.
Consider the following: Megan Nicolay, an authority on Generation T T-shirts, has authored two books with over a hundred different solutions for reusing old t-shirts.
We have the list down to 15 ways to reuse old T-shirts that will keep them out of the recycling bin for another year. Prepare your crafting shears!
Is T-Shirt Recycling Possible?
Surprisingly, only about 1% of clothing is truly recycled, which means that the fabric is broken down and used for something else. However, this does not mean the remaining 99% are not recyclable.
Even if a garment is composed of 99% cotton and 1% spandex, it might be difficult to separate and recycle the fibers from blended fabrics. However, this is still doable if you send them to the appropriate location.
Marine Layer takes many kinds of textiles, except for spandex, and is a great place to take old t-shirts to be recycled. In addition to giving you $5 per shirt, they also cover your shipping costs.
This recycling operation, dubbed "Re-Spun," transforms these old t-shirts into snazzy new ones using a "closed-loop" manufacturing process.
Using machinery that can recycle mixed textiles, they shred the t-shirts to the fiber level. Then, by mixing this fiber with recycled plastic, they produce new clothing. They get different colors from the yarn, so no water or chemicals are needed.
Hand-Me-downs
One of the nicest aspects of aging is that things that were previously worthless become intriguing. A friend's old T-shirt is more likely to be perceived as a cool vintage hand-me-down than as an out-of-style, worn item. This is the epitome of hipster chic!
You never know who will desire your outgrown clothing items. Even if they've never heard of the band, perhaps your teenage relative would appreciate the '80s Motorhead t-shirt you gave them. Perhaps your grandmother would like your outgrown wool sweater.
It is also a good idea to offer old clothes to relatives and friends who undertake filthy labor, such as dealing with vehicles. Consider how much your painter buddy will love your comfortable t-shirts.
Our printers here at RushOrderTees do not wear their finest attire to work. They are aware that on any given day they may return home covered in ink like a painting.
Give To A Clothing Collection Firm
Since the used clothing industry is broad and expanding, you may consider donating your stuff elsewhere. Clothing collection companies have taken over where charities left off in recent years.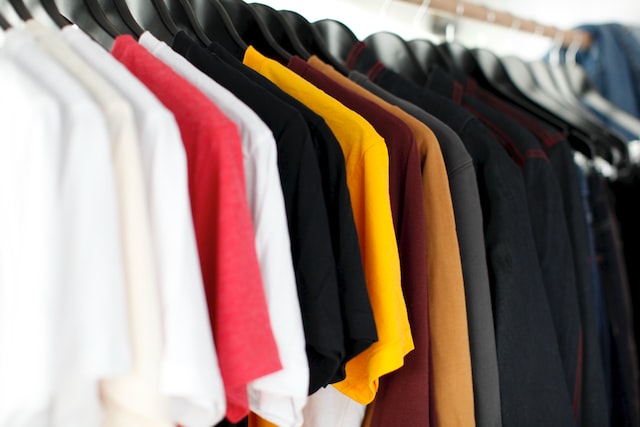 These businesses ensure that clothing is repurposed while generating a little profit. Clothes that cannot be resold or donated are shredded into stuffing for vehicle seats or burned for energy generation, both of which have quite intriguing applications.
If you're seeking a really user-friendly garment collection service, consider Green Drop! You can drop off your things right away, or you can set up a pickup and wait for a truck to come. You need not even leave the house!
The revenues from Green Drop are donated to the American Red Cross, Military Order of the Purple Heart, National Federation of the Blind, and Society of St. Vincent de Paul of Philadelphia! Here you may locate a location or arrange a pickup.
Conclusion
The first and most obvious guideline is to never discard clothing! Even though the world is facing a climate emergency, it is hard to believe that billions of pounds of consumer trash still end up in landfills every year.
According to the EPA, the United States generated around 5 billion pounds of textile waste in 1980, of which 4 billion pounds ended up in landfills.
In 2015, barely 35 years later, there were approximately 32 billion pounds of post-consumer textile waste, of which 21 billion pounds went to landfills.
Thankfully, some groups are already actively addressing waste issues in the fashion sector. SAC, the Sustainable Apparel Coalition, has positioned itself to play a significant role in altering our attitude toward textile waste.