Do you know how many diapers end up in landfills each day? Tons of them!
Not only the waste problem these diapers cause but these are harmful to your baby's skin as well.
So, let's make a change and switch to eco-friendly alternatives.
We know it is very intimidating for parents to think of cloth diapers for their babies. But that's not the only option to hop on the green bandwagon.
Luckily, many diaper brands have moved toward eco-friendly diaper alternatives that have made going green easier than ever.
We have rounded up 10 eco-friendly diaper companies below to help you choose the one for your baby's good health and the planet's betterment.
1. Babyganics
Babyganic is run by two dads who thoughtfully started this initiative to protect your baby's sensitive skin and our planet.
They specialize in baby bath and body products along with diapers and wipes. Their products are free from dyes, sulfates, fragrances, and other harsh chemicals.
The company's team keeps your family and little ones in mind while developing every product.
Their "Skin Love" diapers by Babyganics come in different sizes and designs to better fit your values and baby.
Website: https://babyganics.com/
Address: 1525 Howe Street Racine, WI 53403
2. Eco Boom
Eco Boom is an eco-friendly company committed to making humans and the planet healthy. It was founded in June 2017, and listed in the U.S. Amazon in Dec 2017.
Currently, it is exporting its products to 21 countries. Their bamboo baby diapers are manufactured from 100% biodegradable bamboo fiber.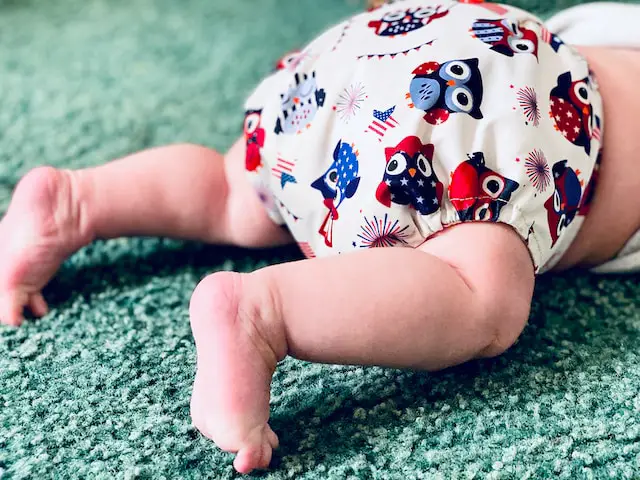 Eco Boom's whole product range is made using plant-based raw materials. They use the chlorine-free wood pulp, which is FSC certified.
Their diapers are comfortable, chemical-free, breathable, and eco-friendly.
Eco Boom is an OK biobased, U.E., FSC, FDA, and OEKO-TEX certified diaper company. Hence their sustainability claims are 100% authentic.
Website: https://www.iecoboom.com/
Address: Unit 704, DFC, No. 503 Gaolin Middle Road, Huli District, Xiamen
3. Dyper
Dyper is a renowned company supplying high-quality, biodegradable, and eco-friendly diapers. Their diapers are made from viscose fiber from Bamboo and chlorine-free wood pulp.
Dyper packs its products in oxo-degradable materials, and you can return them for disposal through their REDYPER service.
They perform high-quality checks to assure that each product meets international quality standards.
This company is certified by OEKO-TEX, and they have achieved the highest safety ranking for their products. Moreover, their diapers are affordable and easy on wallets.
Website: https://dyper.com/
Address: 7135 E Camelback Rd, Scottsdale, Arizona, 85251 US
4. Eco by Naty
Eco by Naty was founded in 1994, and since then, it has been providing environment friendly and biodegradable diapers.
You can completely put your trust in Eco by Naty as it has received OK biobased, F.S., and OEKO-TEX certifications.
Their diapers are free from harsh chemicals and fragrances. Sit back and relax; you are getting your hands on reliable, eco-friendly, and sustainable diapers.
Website: https://www.naty.com/global/en/
Address: Swedenborgsgatan 20 118 27 Stockholm Sweden
5. Healthybaby
Healthybaby was started in 2003, and since then, its mission is to supply organic products and go all-natural. Their diapers meet all the international safety standards and specifications.
This company produces diapers free from phthalates, parabens, antioxidants, pegs, propylene glycol, and synthetic fragrances.
They are made out of chlorine-free wood pulp and plant fibers. All these properties make Healthybaby diapers safe and comfortable for your little ones.
Buying their diapers will not only protect your baby's skin but also help the earth.
Website: https://healthybaby.com/
Address: 21 Warren Street New York, NY 10007
6. Seventh Generation
Seventh Generation diapers are a great choice for sustainable, safe, and sensitive baby skin.
They are breathable and provide an ultra-absorbent core that keeps your baby's skin dry for a long time and free from a rash. All their products are derived from plant-based sources that are FSC certified.
They are completely free of latex, PVC, lotions, fragrances, phthalates, and TBT.
Seventh Generation also works with the Rainforest Alliance to nurture our planet's forest along with maintaining your baby's health.
Website: https://www.seventhgeneration.com/home
Address: 60 Lake Street Burlington, VT 05401
7. Alvababy
Alvababy diapers are 100% plant-based and made with natural or synthetic ingredients. They contain zero dye and are tested by dermatologists.
Plant-based fibers make these diapers breathable, absorbent, and comfortable fit. Their products are easily affordable and not hard on your wallet.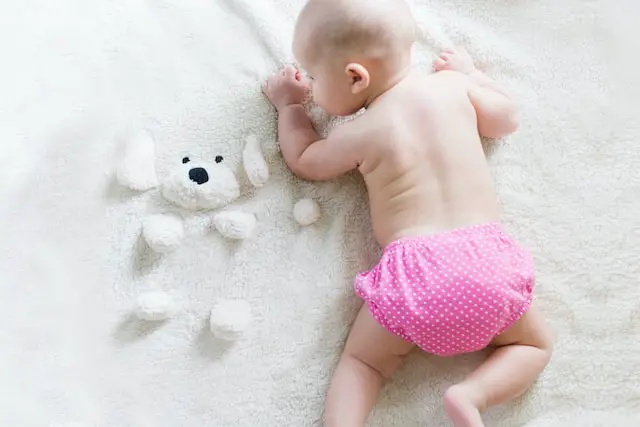 Alvababy cloth diapers are adjustable, reusable, and washable. Moreover, their products come with a 1-year guarantee.
So, it's time to say goodbye to traditional diapers and opt for sustainable cloth diapers only for once.
Website: https://www.alvababy.com/
8. Eco Pea
Eco Pea creates sustainable diapers using bamboo sheets, making them excellent eco-friendly alternatives. Bamboo sheets give good absorbent properties.
It produces the strongest and softest diapers. So your baby no longer has to feel dry and uncomfortable all day long.
Eco Pea represents a completely new breed of environment-friendly diapers.
Their products are vegan and 100% cruelty-free as they are not tested on animals. So go ahead and get a chance to try their products.
Website: https://ecopeaco.com/
Address: 26 Bastion Square, Third Floor – Burnes House, Victoria, BC V8W 1H9
9. Abby and Finn
Abby and Finn's diapers are 100% natural and organic. They are completely free from chlorine, dyes, fragrances, and other harsh chemicals. Their diapers are made with plant-based raw materials and are plastic-free.
This company provides competitively priced diapers. Abby and Finn send your way a convenient bundle including baby wash and baby balm to keep your little one fresh and happy.
You can save up to 30% while buying with them. Their donations of 30 diapers to needy families on every bundle you purchase are amazing.
Website:https://abbyandfinn.com/
10. Joone
Joone is a France-based company and new to the U.S. market. It is an environmentally responsible producer of sustainable and 100% natural diapers.
Their diapers are effective, durable, effective, and come in all those cute patterns.
Their commitment to the consumers and mission to help the planet is amazing.
Not to forget, they also use olive oil in their products which is very good for your baby's skin.
Website: https://joone.com/