Grove Collaborative is a firm that sends monthly shipments of natural home care items to your home.
Some of the things that come in their monthly boxes are deodorants, toothpaste, laundry detergent, and floor cleaners. They collaborate with Method, Mrs. Meyer's, and David's, among others.
Grove Collaborative also produces its own goods. They assert that their collection is resilient, potent, and wholesome.
Nonetheless, there is one issue. Many of the things they ship are packaged in plastic.
How accurate is their claim that they are sustainable, strong, and healthy if the majority of their products are packaged in plastic?
Under the heading "Imagine a World Without Plastic," Grove Collaborative wrote on their homepage, "By 2025, Grove will be completely free of plastic."
In addition to this claim, they revealed their new plastic-free soaps and cleaning products. Some of the items are also derived from plants.
Monthly Grove packages appear to be the most appealing due to the convenience of having natural products delivered directly to your home.
Many claims are made by Grove Collaborative, such as offering carbon-offset shipping for every box.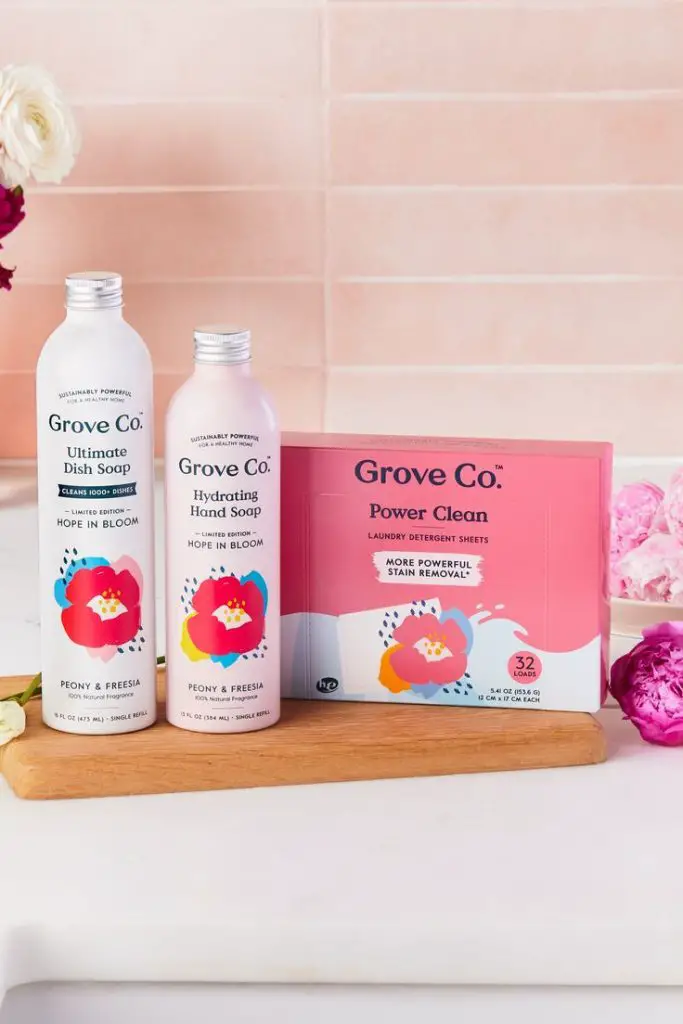 Carbon offsetting at Grove is accomplished by purchasing credits to fund technologies that reduce atmospheric pollution, such as solar systems, wind farms, and more.
In this way, they lower the amount of carbon dioxide in the air to make up for the carbon dioxide released when their boxes are shipped.
Native Energy and Natural Capital Partners are two of the partners with whom Grove Collaborative collaborates to carbon offset its shipping.
Grove Collaborative asserts that its goods adhere to a four-point standard: they must be uncompromisingly healthy, aesthetically effective, sustainably manufactured, and cruelty-free.
The issue with this claim relates to their third criterion point. If a product's packaging is made of plastic, its production may not be sustainable.
On their homepage, Grove Collaborative writes, "Only 9 percent of plastic is recycled in the United States, and 24 billion pounds of plastic reach the ocean each year."
However, they continue to ship plastic products to many of their customers.
The bright side is that Grove is increasing the number of products in their portfolio with eco-friendly packaging. They are also producing their own environmentally beneficial and sustainable goods.
Examples of products sold by Grove include:
Laundry detergents
Hand soap
Carpet cleaners
Dishwashing soap
Toothpaste
Toilet cleaners
Deodorant
Shampooing and Conditioning
Hand Sanitizer
Beauty
Air deodorizers and candles
Prioritize Quality
Perhaps most significantly, their products are of high quality.
Because they only work with high-quality brands and make their own products, they don't have to compromise on quality to offer such a wide range of products.
The idea that natural products are inferior to their chemical-laden equivalents has been debunked for some time, but Grove may have placed the final nail in that coffin.
From their cleansers to their vitamins, they place significant emphasis on ensuring that the products they sell are effective. And remember, if you believe it does not work, you can return it for a full refund.
Is This An Example Of Greenwashing?
The ideal example of greenwashing is Grove Collaborative.
They sell alternatives to paper products and household supplies, such as toilet paper and paper towels, produced from bamboo.
They say that by not using trees, they are more environmentally friendly. The issue is that, as a consumer, you must consider not only "upstream" (source) but also "downstream," i.e., where does this product go after its lifecycle?
Grove Collaborative fails to comprehend that its products are ultimately disposable. They are discarded and sent to a landfill. They are essentially identical to paper towels.
Even though they say their sourcing is better, they try to hide the fact that their product must be shipped hundreds of miles (which has a big carbon footprint) and is then thrown away through marketing (greenwashing).
On Grove Collaborative's website, there are dozens of examples of single-use products that try to look like they are good for the environment.
I want you to think about the effects that businesses and products like Grove Collaborative have upstream and downstream.
Utilization Of Natural Ingredients
Since cleaning products are not regulated by the FDA, the ingredients do not have to be listed on the package.
Nevertheless, the EPA mandates that active disinfectants and potentially hazardous chemicals be stated properly.
However, as you've likely already realized, Grove is not a bare-bones firm. They provide a complete list of ingredients on the container.
Grove has made its supply chain more sustainable by cooperating with Amfori, a prominent business organization for free and open trade, and guaranteeing that they not only meet specific environmental criteria but that the people who make this possible are also treated ethically.
However, this is not limited to their own items. Each of their partners must adhere to the same stringent requirements as this B-Corp.
Lastly, because all of their products are non-toxic, you don't have to worry about what's going down your drain or the potential health risks associated with using them.
Carbon Neutral Certified
Natural Capital Partners and Optera have partnered with Grove to offset the carbon impact of their direct emissions.
So, they are making their own operations more efficient and paying for emissions they can't stop by giving money to programs that use renewable energy and protect forests.
For a cleaner, greener tomorrow, these programs are nature-based, community-led, and independently verified to ensure the right reduction of emissions.
They are working with important partners to cut emissions even more in their supply chain and reach their goal of net zero emissions by 2030.
Conclusion
It is hard to keep all of the things you need for your home organized in a regular way.
You have a sufficient amount of dish soap but not hand soap.
And you are out of toilet paper but have plenty of sponges. It is a fragile equilibrium.
Instead of making you run to the store every time you need something, Grove has opted to deliver the goods to you.
Their regular shipments are easy to handle and keep track of, so you'll never run out of supplies.
But the most liked thing about them among people was their dedication to encouraging sustainable living.