Esprit is one of the leading fast fashion brands in the world! This means that they continuously introduce new collections within short intervals.
Fast fashion seems to be the new normal in today's world. Zara, H&M, Gap, and Forever 21 are a few giants in the fast fashion industry.
While fast fashion offers affordable prices and instant gratification for shoppers, it has its downside as well. Fast fashion is associated with climate change, pollution, waste, and other environmental harm.
Many people are making a conscious shift towards more sustainable brands and ditching fast fashion brands. Therefore, they can benefit from all the information that they can get.
In this article, I'll be discussing whether the brand, Esprit, is a fast fashion one or not.
So let's get right to it!
Is it really fast fashion?
Unfortunately yes, Esprit is a fast fashion brand. Such brands have a goal to quickly produce clothing at a low cost as a response to customer demand.
Esprit is actually one of the leading retailers in the world of fast fashion. The company is known to produce clothing at a rapid pace. This means that new collections are launched almost every other week.
While this is amazing for customers who want to access fast fashion at an affordable cost, fast fashion isn't the best for the environment.
This is because of the sheer amount of waste that this industry produces. The fashion industry is responsible for 10% of the world's global greenhouse gas emissions.
As new collections are being launched all the time, older ones are discarded at the same speed. These stocks end up in landfills as waste.
They're made using cheap raw materials which makes them unsustainable. This means that they won't even begin to decompose for several decades.
Definitely fast fashion offers fast and efficient delivery. Plus it also democratizes style and fashion. However, these industries are known for using cheap materials and relatively poor workmanship.
They're encouraging a throwaway consumer mentality, all of which leads to a negative environmental impact.
However, it should be noted that since a few years the brand has been restructuring its business model. It's shifting from fast fashion aspects to a brand with a mission.
They've now implemented a circular business model in hopes of reducing annual waste.
While they've decided to move on this path, there's no evidence that they're actually making efforts to get off the list of fast fashion brands.
Therefore, trusting them becomes really difficult!
Where are Esprit clothes made?
The headquarters of Esprit are located in Germany and Hong Kong. The brand has also been listed on the Hong Kong stock exchange since 1993. It's now owned by Northpoint talented Ltd.
The brand manufactures in over 40 countries all over the world. These include China, India, Bangladesh, and Pakistan.
While they maintain a strong commitment to ethical working conditions, people tend to avoid brands that manufacture in such countries.
This is because these countries are known for their loose environmental regulations and abusive, exploitative labor conditions.
This allows brands to get away with manufacturing products without having to pay a high cost or dealing with any legal complications.
As Esprit also manufactures in such countries, people doubt they're commitment! However, the brand provides transparency and claims to not exploit labor and offer a safe and healthy work environment.
Is Esprit an ethical brand?
There are many factors which help determine whether a brand is an ethical one or not. Most importantly, an ethical brand doesn't cause any harm to humans, animals, or the environment.
As Esprit is a fast fashion brand, it can't be regarded as an ethical one. Major reason being that it produces tonnes of waste every year.
However, it is worth noting that the brand is now shifting towards a more circular business model, which will help eliminate their fast fashion traits.
From this perspective, they can now at least start being considered for an ethical brand.
Moreover, one reason why the brand can be considered as ethical is because its supply chain is certified by BSCI in its final stage of production.
Additionally, they also scored 51 to 60% in the 2021 fashion transparency index.
Esprit discloses important information about its policies as well as manufacturing to the public. In my opinion, such brands are ethical because they're not gatekeeping such relevant information and putting customers at ease as well.
However, there's a problem with the brand's labor conditions. There's no evidence that it ensures payment of a living wage.
Esprit is also known for manufacturing products in poor Asian countries like Bangladesh and China. While it does state that they ensure a safe working environment, there's no evidence on how that is implemented.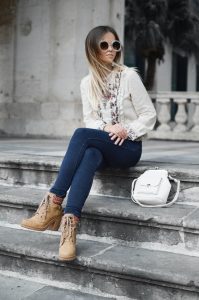 Ethical brands are also certified by major organizations. Another reason why Esprit is ethical is because it is approved by PETA to be vegan. It also has certification from the global organic textile standard.
Furthermore, while it may not be 100% cruelty free, it definitely has animal welfare policies in place. The brand is completely fur free.
It doesn't use Angora or exotic animal skin either. However, it does make use of leather and exotic animal hair. Although, the brand has a policy to source wool from non-mulesed sheep which is an improvement.
Keeping the above in mind, it's difficult to decide whether Esprit is an ethical brand or not. Even though it has made some ethical efforts, it still has a long way to go!
Is Esprit eco friendly?
Yes, Esprit is an eco-friendly brand. Recently, it has made a lot of advances in regards to the protection of the environment.
The major one being that they ditched the fast fashion model and shifted towards a circular model. They put recycling programs in place and these will help reduce the waste produced every year.
They also launched a recyclable fashion capsule collection. By using organic cotton and removable buttons, the brand ensures that the products are safely returned to the biosphere.
Apart from this, they're also making use of recycled polyester and sustainable wool. Esprit is highly committed towards becoming eco-friendly and has even dedicated an entire page on the website highlighting the efforts they've made to be sustainable.
I hope this article helped answer your queries regarding the Esprit brand!