Ever thought about finally embracing your gothic or edgy mood and purchasing some edgy fun boots? We certainly do.
Boots, which too are fun ones, are a mood in every season and for every human. Not talking about your ordinary 9 to 5 work boots in particular.
Big block heel boots, strappies, neons, and so much more that you can have while shopping for footwear.
Demonia is the perfect place to go if you are just ready to buy new boots.
A business since the year 1993, Demonia is a Southern California based footwear brand. It specializes in unique and specialty footwear.
Along with innovating new designs, this brand has also revived old ones. Other than the unique and edgy designs, you get high quality footwear on every visit.
This brand is significantly known for its platform boots and funky styles. Demonia is distributed and made by Pleaser USA Inc.
Not just some edgy styles, but it is the trend and subculture representation you find in these styles. These are iconic, vegan friendly and are considered the rightful statement for alternative subcultures.
The style of Demonia is no-trash and the take-no-prisoners attitude is equally popular with men and women of underground subcultures. The variety of boots includes sneakers, sandals, creepers to Mary Janes, platform boots, and Goth vibe.
These shoes are available in US sizes for both men and women. You can also find them in unisex sizes which definitely is for all.
Back in the day, Demonia shoes were designed to create a black leather look ranging from knee high boots to ankle shoes.
But nowadays the designs of these boots are diversified with some funky neon colors, pastels, buckles and so much more to suit every rebel's taste.
Devious, Funtasma, and Bordello are the sub brands of Demonia that offer different cuts, concepts and styles in boots. The prominent feature of every Demonia boot is the high or low chunky sole.
It is not just about the look with this brand. You get the best quality of boots that are durable, sturdy and are definitely the best footwear investment for the long term.
With exemplary craftsmanship at hand, these boots are very affordable and give you the opportunity to buy 2 instead of 1.
Not something that should be happening but people most of the time confuse their size when it comes to buying Demonias.
While picking out your Demonias, you should generally go for one size up to your regular shoe size. If you have the chance, you should definitely try on these boots once before ordering them online.
Research is the key while you are shopping at Demonia. You need to take your time and carefully look at every design present and then shortlist the ones you like. Once you are done with that, carefully compare two designs, pick the similarities and differences.
This technique helps you get the required and distinct designs you have been looking for. If you are on a budget, then you end up getting the best deal this way.
You can pair your favorite Demonias with skirts, jeans, or just wear them plain and you get your statement look with statement boots.
Is This Brand Ethical?
Other than literally having demons in the brand name, Demonia is a celebrated footwear brand among rebellious people.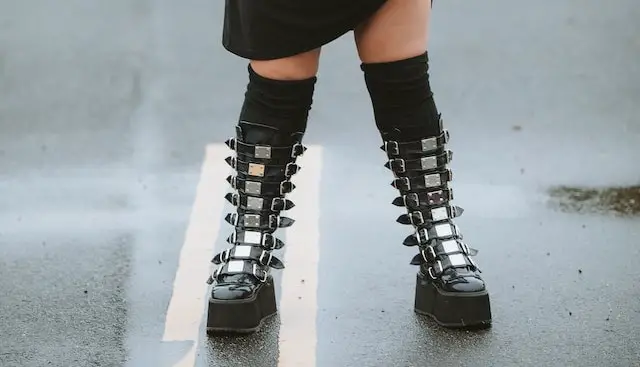 Though it is known to be cruelty-free and a vegan brand, there is no tangible source mentioned on their website. This lack of sources supporting vegan claims for a brand leads to transparency issues which affect the customer base.
Where Are Demonia Shoes Made?
These shoes are made in Southern California and the website does not state the material sourcing. The shoes are made of leather so either it is matte or patent.
The shiny patent layer not only adds a glossy look but also adds extra protection for the shoe. But even if it is matte, both leather types are durable and would last for the long term.
The key to making these shoes last longer is to keep them clean and waterproof. Apply shoe protector on the heels and don't step into the water.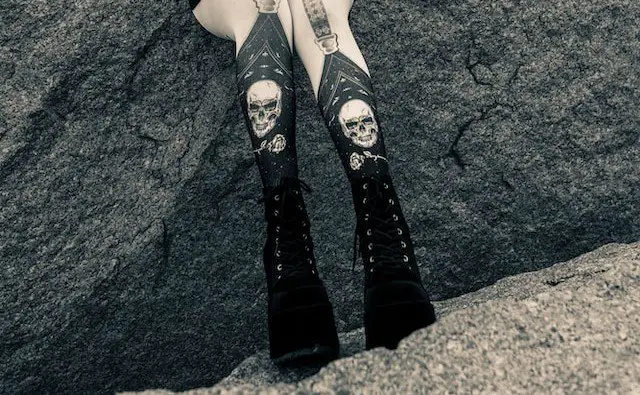 These are easily cleanable with simple soap, water, and soft cloth as well. DO NOT use wet cloth or water on the patent shoes as they will lose shine very quickly.
You can wear them anywhere but we would suggest not wearing them while driving.
Demonias are the trendy and goth-type shoes that you would certainly need in your wardrobe to add that edgy factor. Comfortable on the feet and with a wide range of styles, these should be the perfect pair for your next weekend hangout or a funky rebellious-themed party.