A common misconception about curbside recycling is that you can recycle any glass. This means that you can recycle glass cups, light bulbs, and windows along with your bottles and jars.
Not only are these things potentially damaged, but your recycling firm does not want them. Windows are an example of treated glass, and they are far harder to break than glass bottles.
Glass makers use different tools and methods to make container glass (like bottles and jars) and treated glass. Chemicals are added to treated glass to make it stronger and less likely to break.
In order to recycle glass, it must be melted in a furnace. If window glass is mixed with container glass, it contaminates the whole recycling batch with chemicals that make it impossible to use the glass as recycled containers.
Windows could be recycled if all the glass being recycled was cleaned, but windows are discarded so rarely outside of large-scale building demolition projects that most recycling facilities are not equipped to handle them.
Contribute Towards A Greener Future
Donating your old double-hung windows and entrance doors to Habitat for Humanity ReStores, which resell high-quality used construction materials, is another fantastic option to give them a second chance at life.
Interestingly, the concept began in Canada in 1991, when five volunteers from Winnipeg, Manitoba, opened the first ReStore for Habitat for Humanity. It spawned more than 100 ReStores in the United States and 1,000 worldwide.
Giving to or buying from a Habitat ReStore is good for the environment and the community. You aid the environment by interrupting the vicious cycle of collecting and discarding items.
You also do a lot to help raise money for your local Habitat for Humanity, which builds good homes for families with less money.
You may also give timber, lighting fixtures, hardware, tools, furniture, and appliances in addition to old doors and windows.
Find a ReStore near you and call them ahead of time to ask if they need anything else that could be donated. Don't forget to request a receipt to deduct your gift from your taxes at year's end.
How Is It Recyclable?
There may also be businesses in your region that accept donations of used construction supplies. One example is Habitat for Humanity, which operates over 500 ReStores throughout the country.
You will need to call ahead to make sure they take windows, just like you would with other building materials. Additionally, make sure to get a receipt since you can deduct your contribution from your taxes.
While glass bottles and containers are commonly recycled, window glass is a much different matter. The two kinds of glass can't be recycled together because they are made of different chemicals and melt at different temperatures.
While bottles and containers are relatively uniform, window glass is more variable. Frequently, window glass is coated or colored.
Additionally, depending on the use, it may be laminated or tempered glass. Various varieties of window glass cannot be blended during the recycling procedure.
Despite the difficulty of recycling window glass, there are several ways to keep it out of landfills. For instance, it may be melted and remade into fiberglass, integrated into asphalt, or even blended with yellow and white fluorescent road paints.
Concrete and broken glass may be mixed to produce terrazzo floors and worktops. Some businesses utilize recycled glass for landscaping materials and other ornamental purposes.
You might also contact local art colleges, as you may be able to give the glass to glass artists.
Be Innovative
Old windows make for fantastic outdoor décor. Hang them at creative angles to give beauty, form, and structure to your garden; paint the frames with vibrant hues to make them stand out against the foliage.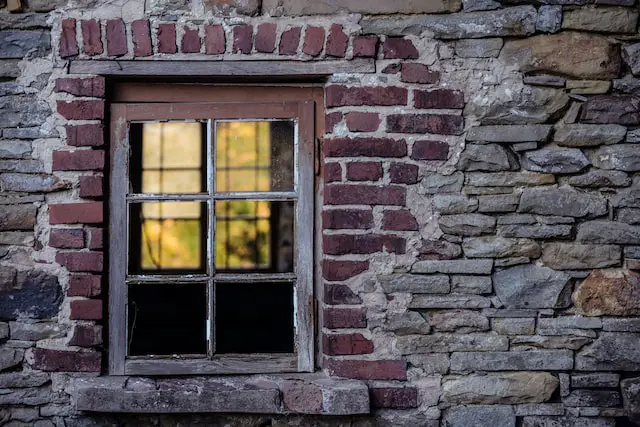 How many window panes and framed windows do you have? You can even build a greenhouse if you have enough trash, like old windows from a window replacement.
In conclusion, old windows and window glass may be used for a variety of purposes other than trash. You may give your windows a second life or perhaps a new home through donation, recycling, and other design alternatives.
So, the trash dump is not a good option, especially if you care a lot about the environment.
It Can Be Repurposed
Vintage fashion and vintage interior design will never become outdated. Reusing or repurposing artisan glass windows in a home room is something that will never go out of style.
If you have a strong imagination and are skilled with crafts and arts, using your glass windows in creative ways is a simple and inexpensive way to bring new life and a touch of elegance to your house.
You may use the glass to create a mirror with a wooden frame that stands atop a bookcase or a cabinet. Depending on the size of the window, it might be reused as a full-length window in your home's entryway.
There are several uses for antique windows. Additionally, you may construct outdoor tables and coffee tables. You could create a piece of art out of your old windows if you don't want to throw them away or donate them.
Conclusion
You might be able to upgrade your old windows because technology is making more things possible. SolarWindow is a firm that goes one step further: It permits the conversion of windows into solar panels.
The U.S. firm delivers a spray-on technology for any glass surface that generates renewable solar energy and says that the technology pays for itself in energy savings within one year (compared to five to seven years for traditional solar panels).
The biggest problem with windows is that when they are broken, they are worth the least on the recycling market and are therefore most likely to be recycled.
Most of the value of broken glass is lost because it is dangerous to move. If you are planning a home renovation, make sure that none of the original windows are broken.