Glass jars are a natural and eco-friendly solution for keeping both wet and dry foods.
If the sides of your glass jars get chipped or broken, exercise your best judgment when reusing them for food storage (not for canning! ), since they have a multitude of uses around the house.
You must reach the bottom of a jar of preserves, mayonnaise, olives, or jam. What is the next step with the jar?
In our home, glass jars are frequently repurposed for the storage of different foods, such as bulk nuts and seeds, the remainder of a can of baked beans, or supper leftovers.
But what if you do not require another glass jar? What if your kitchen cabinets are already stocked? They can be recycled or used for various purposes.
In an effort to live sustainably and generate as little waste as possible, you probably already restrict the quantity of plastic in your house. This is fantastic news, and a great starting point for your quest to discover all the unique uses for glass jars!
Adopting a zero-waste mentality helps you to (re)evaluate resources in a fresh light.
And with a sustainable future in mind, the zero-waste notion entails building a circular economy that keeps good materials in motion – essentially eliminating the concept of trash.
Glass is incredibly simple to recycle, however the amount of glass bottles discarded annually could fill a building! A single contemporary glass bottle can take over 4000 years to disintegrate.
Planet Green reports that recycling a single glass bottle or jar may cut air pollution by 20% and water pollution by 50%.
Suitable For Storing Dried Herbs
As we harvest and dry our wild finds throughout the spring, summer, and fall, we are aware that appropriate storage is crucial.They must keep dry during the winter months so that they may be used for herbal teas as necessary.
One approach to keep them is in bags made of permeable natural fibers, while glass jars with labels are more beautiful.
Types of Reusable Jars
Pasta Jars
Pizza Sauce Jars
Nut Butter Jars
Pickle Jars
Candy Jars
Syrup Bottles
Dressing Containers
Infant Food Jars
Whatever you have that functions!
You may repurpose any glass jar that strikes your fancy, but I've found that some sizes and shapes are more beneficial than others. Pasta jars are my absolute favorites! They resemble huge canning jars.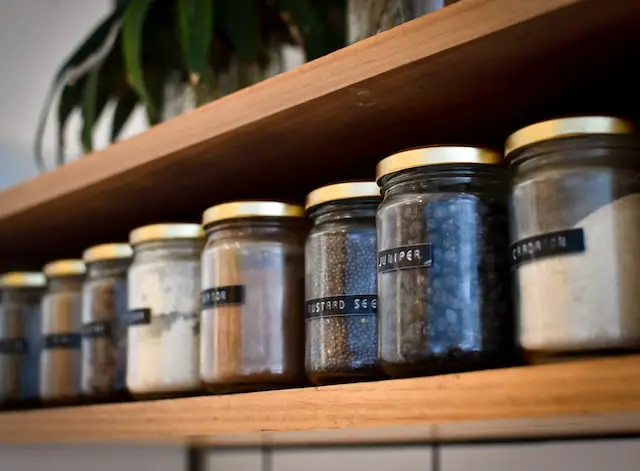 Now that we have many pasta jars from the same manufacturer, the lids are interchangeable, so you don't have to constantly search for the correct top for each jar.
They also enjoy jars of nut butter, pickles, and pizza sauce. They are comparable in size to tint mason jars, and I do not require a huge jar for every task.
Additionally, people use salad dressing bottles, glass honey jars, and miniature mustard jars. If it's the proper size for your requirements, everything goes.
How do they get recycled?
A materials recovery plant separates glass from things like metal and paper before sending it to a glass processor. It is separated by color, and any impurities are eliminated.
The cullet is then heated to 2,600 °F and used to make new glass containers.
Personalized Decorative Object
If you would like to personalize your simple glass jars (rather than leaving them "as is"), there are a few things you may do.
To get rid of the label, clean them well by putting them in hot, soapy water. Some labels are readily removable, while others are more tenacious.
Some labels are hard to get off and may need to be scraped with the back of a knife or steel wool. For a rustic aesthetic, you may then wrap them with twine or yarn.
Glass jars may be decorated on the interior and outside. Food storage should be avoided in containers that have been painted, though. Perhaps they are even more stunning when engraved with your own design!
You might also add fashionable chalk labels to your Mason jars so that you never again mix sugar with salt!
Recycling Jar Preparation
Avoid breaking glass bottles as much as possible, as there is no market for recycling shattered glass.
You may leave the label or foil intact; however, many recyclers may request that you remove the metal caps. This is done in part to guarantee that all liquids are extracted. Take out all of the corks from the wine bottles.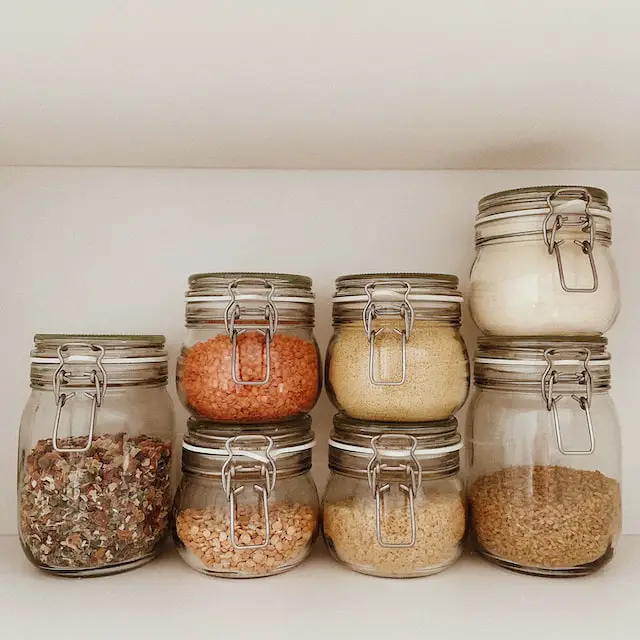 Do not concern yourself with non-liquid substances in the bottle, such as a lime wedge in a beer bottle or cork fragments in a wine bottle.
Remove from your glass recycling any items that are not containers, such as Pyrex, glasses, windows, and mirrors. These glass items are not recyclable with containers.
Mini Terrarium
A terrarium is a collection of miniature, ornamental plants grown in a bowl or container made of glass. You may construct your own little terrarium in about any size jar or bottle made from recycled glass, but the larger the better!
Add stones, activated charcoal, moss, soil, and your chosen plants. It is essential to apply the ingredients in the correct order to maintain healthy soil.
Conclusion
There are a number of sizes and styles of glass jars. Instead of dumping them in the recycling bin, consider one of the following upcycling ideas.
One of our priorities since beginning our zero-waste journey has been to eliminate plastic from our kitchen. This has resulted in our purchasing several goods in glass jars.
Since glass can be recycled, we try to find as many uses for it as we can before putting it in the recycling bin. Glass jars are convenient to have on hand, but we have amassed so many that we must discover new applications for them.
I have a cupboard filled with jars and a container of lids. It is rather inconvenient to determine which lid fits each jar when I need them, but I prefer not to keep the jars with their lids if they are not entirely dry.