One might get the idea that this footwear is sourced from crocodiles or something, hence the name crocs. But that is not the case. Crocs are footwear mainly designed as beachwear and are also the name of a brand called Crocs Footwear.
These are popular for being lightweight, colorful, and stylish but primarily were made as beachwear. Back in 2003, crocs footwear became widely popular among people which also inspired many knock-off versions of it.
The style of these shoes is considered unique as it comes in different bright colors, such as slip on and has toes designed like Swiss cheese. The holes in crocs are called ports and most of these do come with ports.
Crocs have a strap on the back of them which can be worn as sandals by flipping the strap down or simply slip on. The original Crocs Footwear brand has a wide range of colors in crocs. As for the knock-offs, you can find them in green, blue, black, pink, and white.
Not confined to a single seller, crocs are now available worldwide and on online stores as well. The main idea behind this footwear was to have comfortable, colourful, slip-resistant, summertime beachwear.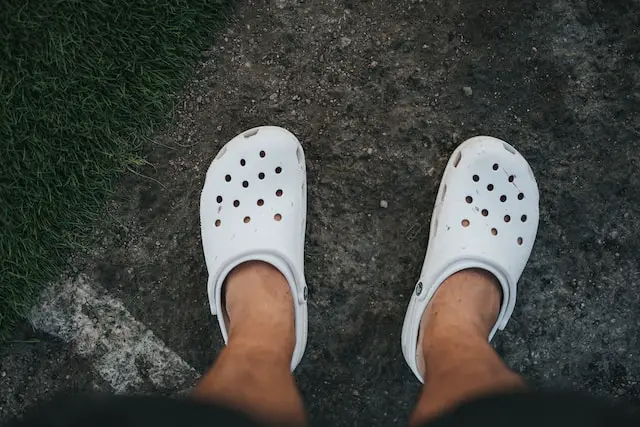 By 2006 crocs became popular not just as beachwear but comfortable summer shoes worldwide. People do not restrict their crocs to the beach only. They wear them at work, play and for general outings.
Other than the casual crocs, the brand has also designed the therapeutic comfortable crocs which are ideal for people standing for hours and with back and foot pain. These are available on the website and can be bought at a reasonable price as well.
The manufacturers of the crocs have these for men, women and kids with a wide variety of colours and sizes. Along with crocs, the brand also makes flip flops and different kinds of comfortable shoes.
While getting yourself a pair of crocs, it is made sure that you get the utmost comfort that comes with the comfortable fitting of these shoes. The fitting is designed to give breathing space to your feet without having any pressure at all.
There's a huge debate about whether crocs are an appropriate wear for daily use or not. Some find them offensive due to lack of style and some think of them as crucial for their shoe collection.
Crocs are known for being comfortable, lightweight, odor resistant, and with a comfortable grip. These can be used in both recreational and professional settings. The main question everyone has is whether these are good for us or not?
Pros and Cons
Pros:
You can't deny the comfort of crocs. They're supportive and can make walking really easy for you.
If you have wide and big feet, crocs are a go to option for you. Crocs have a lot of breathing space which is hugely beneficial for people having any foot deformations like bunions.
Crocs provide you a good deal of shock absorption. The cushioned insole of crocs enables you to talk long walks on hard surfaces for a long time.
Wearing fancy shoes to a beach or anywhere outside might be a little hard to clean up afterwards. Crocs do not have any clean up issues though.
Cons:
While having the wide space within the crocs is a plus, people with narrow feet may not consider this feature ideal for them.
Many crocs come with open straps at the back and just have plain heel support. Without the strap heels are not well supported and cause imbalance.
Crocs have a loose fit to them. So for some kids and adults it becomes a problem and can cause them to trip and lose balance.
Are crocs environment friendly?
One of the many reasons crocs are popular is that they have a low carbon footprint. The manufacturers of crocs are inclining towards making this footwear with an even more low carbon footprint and switching to eco-friendly bio-based options.
Are crocs recyclable?
Since there's plastic in them, crocs are not recyclable. It is difficult to recycle processed plastic that is used in many footwears as well.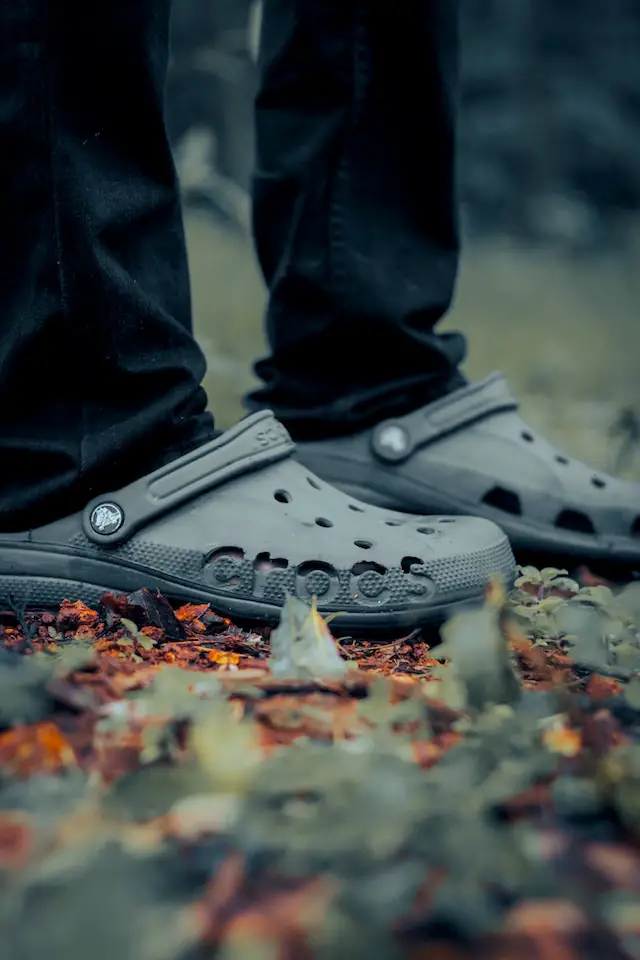 Crocs are definitely not compostable or biodegradable. Plastic does not recycle that easily hence they are not among biodegradable materials.
Why are crocs horrible?
Other than popular reasons, crocs are also considered horrible due to multiple holes in the shoes. As the holes provide breathing space to your feet they are also the source of sharp objects entering your shoes at any time. They do not provide efficient heel support unless you have huge feet.
If you keep on wearing crocs with narrow and small feet you might end up with nail problems, tripping here and there, imbalance and so much more happening to your feet, and your back having constant pain.