In today's world, people are more inclined towards stuff that is environment-friendly and is not a threat to the planet. When we talk about mattresses, eco-friendly ones are preferred the most.
They can help prevent respiratory problems, cancer, hormone disruption, headaches, and many other serious physical and psychological problems.
Global Organic Textile Standard (GOTS), Greenguard Gold, Global Organic Latex Standard (GOLS) are some of the certifications people should look for while buying an eco-friendly mattress.
Here, we have compiled a list of the top 10 eco-friendly mattress brands for your ease.
1. Brentwood Home
Based in Los Angeles, Brentwood Home is owned by Avocado Green Brands. The company is famous for using natural, recycled, and comfortable materials to create mattresses.
It has been crafting mattresses and pillows for almost 35 years now.
The company prioritizes sustainability by making affordable products that consume less energy, and produce less waste.
The mattresses being eco-friendly carry a 25-year warranty. For their production, the company uses certified organic latex, cotton, wool, and other natural materials.
Website: https://www.brentwoodhome.com/
2. The Futon Shop
The Futon Shop was founded in 1976. It is one of San Francisco's oldest and largest manufacturers of mattresses. The company specializes in hand-crafted, chemical-free, and eco-friendly mattresses.
It purchases raw cotton and wool from local farmers and produces customized mattresses. These mattresses carry a 7-year warranty period.
Website: https://www.thefutonshop.com/mattresses/
Address: 3323 Hyland Avenue Suite F. Costa Mesa. California
3. Avocado Green Mattress
It started in 2016. Avocado mattresses are handcrafted in California with natural, non-toxic, and 100% GOTS certified cotton and wool.
Avocado mattresses feature a 1-year sleep trial, 25-year warranty, free shipping, and optional in-home delivery plus setup. Their factories are powered by renewable energy and are producing zero waste.
Website: https://www.avocadogreenmattress.com/
Address: 1120 Montana Avenue, Santa Monica, CA 90403
4. Birch
Birch mattresses are handcrafted in the US. The company is owned by Helix. It uses zero polyurethane-based foams and raw materials that are sustainably sourced to craft mattresses.
Natural latex, organic wool, organic cashmere, and GOTS certified fair-trade organic cotton are also used in mattress production.
Birch's mattresses contain a 25-year warranty period. Its mattresses are truly eco-friendly and its customers are high with their services.
Website: https://birchliving.com/
Address: Austin – Domain Northside, 3121 Palm Way, Suite 110, Austin, TX 78758
5. Bear mattress
It is a family-owned company that has been in business for almost 25 years. It is based in the USA and is GreenGuard Gold certified.
The mattresses produced by the company are mostly designed for athletes and active people. The company uses environment-friendly materials in production.
The best part is: the company's mattresses are best for back pain.
Website: https://www.bearmattress.com/
Address: New Jersey, Hibernate Bedding, Bernardsville Plaza,80 Morristown Rd, Bernardsville, NJ 07924
6. Plushbeds
PlushBeds is a family-owned company that was founded in 2008. It has both GOTS (Global Organic Textile Standard) and GOLS (Global Organic Latex Standard) certifications and is verified by the Control Union.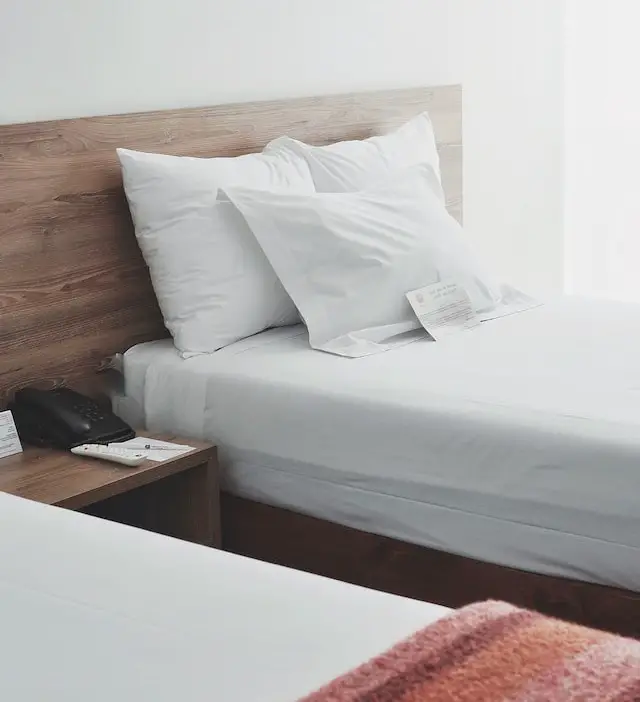 All of its mattresses are handmade in a factory located in California. The company offers a 25-year mattress warranty.
Website: https://www.plushbeds.com/
Address: PlushBeds Corporate Offices 3233 Mission Oaks Blvd. Bldg. C Camarillo, CA 93012
7. Happsy
Happsy is a mattress company that promotes a healthy lifestyle. The company's goal is to keep everybody and the environment healthy which it fulfills by offering natural and non-toxic mattresses.
It provides a 120-night trial to its customers with a 20-year warranty. It uses GOTS-certified cotton, GOLS-certified latex, and naturally flame-resistant materials to craft eco-friendly mattresses.
Furthermore, the company's organic sleep products are handcrafted by skilled artisans in the USA. Its team is well paid and loves working in a friendly environment.
Website: https://happsy.com/
Address: Mailing Address
PO Box 7396, Jackson, WY 83002
8. My Green Mattress
My Green Mattress offers a variety of certified, affordable organic mattresses. It has earned the GOTS and GOLS Organic Factory Certification from Control Union.
The mattresses offered by the company are handmade in the USA. They are also eco-friendly, comfortable, durable, pressure-relieving, hypoallergenic, and made of 100% natural latex.
Moreover, the company offers a 20-year warranty with a 120-night free trial period to its valuable customers. The company also offers a special military discount.
Website: https://www.mygreenmattress.com/
Address: 1519 W. 55th Street. LaGrange, IL 60525
9. Naturepedic
Naturepedic supports an organic holistic life by eliminating flame retardants and other toxic materials. The Naturepedic factory is located in Chagrin Falls, Ohio, and features skilled Amish workers. The company is certified by the Control Union.
It uses organic wool, cotton, and latex and has received various environmental awards.
The company strictly focuses on children's safety, practical design, allergy-friendly design, and third-party testing and verification.
Website: https://www.naturepedic.com/
Address: 16925 PARK CIRCLE DRIVE. CHAGRIN FALLS, OH 44023
10. Eco Terra
Their mattresses are eco-friendly and made of natural and non-toxic materials. They are made in the USA and handcrafted in California. They are polyurethane free.
The organic cotton and organic wool the company uses to produce mattresses has passed the review process of the Global Organic Textile Standard (GOTS).
Customers agree that Eco Terra is amazingly comfortable. Moreover, the company also offers a 90-night free trial and a 15-year warranty.
Website: https://ecoterrabeds.com/