Ford Motor Company has a lengthy, albeit uneven, history of manufacturing environmentally friendly vehicles. Their strategy appears to center on providing consumers with more options than their competitors.
Ford began exploring air-hybrid automobiles in the 1990s but abandoned the proposal because it lacked the requisite technology to carry on with the project.
In 2005, while the business was selling enormous quantities of gas-guzzling SUVs, Ford made bold claims about providing greener automobiles. However, they did not fulfill their commitments.
Ford now offers an extensive selection of automobiles in a variety of classes. Their offering includes combustion engines with high horsepower, electric engines with no combustion, and everything in between.
In 2008, while other American automakers were on life support, Ford continued to operate without a government bailout (although they did gain more than other US automakers from the Cash for Clunkers program).
In recent years, Ford has had substantial success. Ford swept the North American Car and Truck Awards in 2010, marking only the third time in the award's 17-year history that a single automaker has won both categories.
Is It Sustainable?
As part of the Paris Agreement on climate change, only Ford has promised to cut CO2 emissions. The corporation said earlier this year that it plans to achieve global carbon neutrality by 2050 while also establishing interim goals to combat climate change.
Ford was also in the lead when it came to making a deal with California to reduce greenhouse gas emissions in a big way.
Through 2022, Ford will invest more than $11.5 billion in electric vehicles. Ford accomplished its objective of reducing worldwide carbon dioxide emissions from manufacturing processes by 30 percent for every vehicle produced by 2025, eight years early, in 2017.
Since 2000, the company's global water strategy has saved over 11 billion gallons of water by cutting operational water use by 70%.
Ford continues to implement more water-efficient processes and technologies, with the long-term objective of producing vehicles without using any potable water.
Largest Green Roof
The Dearborn Truck Plant boasts the largest living roof in the world, according to Guinness World Records. The 10,4-acre living roof is a component of Ford's reconstruction of the Ford Rouge Center, which includes a variety of innovative environmental projects.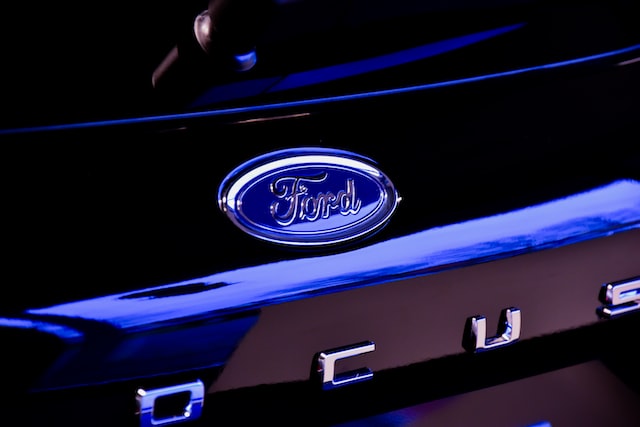 The roof is comprised of sedum, a drought-resistant perennial groundcover that has been planted in a tiered bed. It is virtually maintenance-free, can absorb up to 4 million gallons of rainwater yearly, and is part of the Rouge's larger storm-water management system.
Energy Star Award
Ford's efforts to boost energy efficiency and minimize greenhouse gas emissions from its facilities have earned it the 2007 Energy Star Partner of the Year Award in Energy Management from the United States Environmental Protection Agency.
Ford is the only carmaker to collect the award in consecutive years. In 2006, Ford increased its energy efficiency in the United States by 5 percent, resulting in nearly $25 million in savings.
Since 2000, the energy efficiency of Ford's U.S. plants has increased by 25 percent, which is equivalent to the amount of energy utilized by 220,000 houses.
Usage Of Sustainable Fabric
The 2008 Ford Escape is claimed to be the first automobile in the United States to use seating surfaces made from 100 percent recycled fabric. Interface Fabrics, Inc.'s innovative fabric is made entirely from post-industrial waste.
Post-industrial trash consists of materials that were meant for retail use but never reach the consumer. It can consist of anything from polycarbonate designed for soda bottles to uncolored polyester fibers that do not meet consumer standards.
The plastic and polyester are treated, spun into yarn, colored, and woven into seat fabric. Recycling trash that would otherwise be sent to landfills has clear environmental benefits.
Going Hybrid
Ford is putting $135 million into research and development to speed up the making of the next generation of electric vehicles. This will effectively double their ability to test batteries.
They have put money into the Ford Advanced Electrification Center, a huge building where more than a thousand engineers working on greener car technologies. Ford has paid Van Dyke Transmission an extra $220 million so that it can make its new hybrid transmission.
Ford has cut the amount of energy required to build each vehicle by 10 percent between 2010 and 2011, and by 22 percent over the past six years, according to the company's 2011 corporate sustainability report.
Ford has said that, compared to 2011, it wants to cut the amount of energy each vehicle uses by another 25% by 2016.
Evaluations Of Supply Chain
Ford does reviews of its supply chain in 20 countries. Last year, it said that it found "a variety of general health and safety risks, such as inadequate emergency systems."
Ford said earlier this year that it was looking into claims that one of its Chinese suppliers had broken safety rules.
According to a report by the Institute for Global Labor and Human Rights, a 21-year-old worker was insufficiently paid after losing three fingers in a stamping machine at Yuwei Plastics in Dongguan, Guangdong province.
The company's global supply chain will be looked at more closely in the future. Monique Oxender, the company's worldwide manager for supply chain sustainability, will be in charge of this.
But Niemann says that there haven't been any specific cases of human rights violations that have made people more careful.
Ford says it wants to be environmentally friendly, but for the foreseeable future, it will keep making cars.
Conclusion
According to car enthusiasts, Ford has some of the world's most environmentally friendly vehicles, including the Ford Focus Electric and the Ford Fusion Hybrid/C-Max Hybrid.
Ford has more environmentally friendly vehicles than any other American automaker.
However, it was also noted that Ford has six vehicles in the top twelve most environmentally damaging vehicles (the Ford F-350 FFV, Ford F-250 FFV, Ford E-350 Wagon, Ford F-150 Raptor, and Ford E-250 Van).
Ford is trying to please all customers by making so many different kinds of cars. Ford might be found guilty of "greenwashing" in the court of public opinion, though, because it offers environmentally friendly automobiles alongside gas guzzlers.
In the end, the glossy graphics and inflated promises of greenwashing by Ford and others distract us from the widespread environmental devastation caused by corporations.